A Taste of His Own Medicine
From the Ottawa-Toronto playoff game 5/10/02: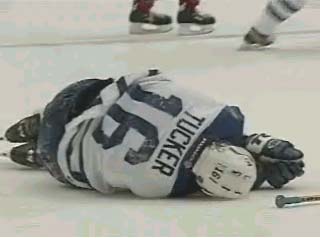 Tucker was cleanly checked into the boards. The player who checked him then went on to score the go-ahead goal, giving Ottawa a 3 game to 2 lead over Toronto. Said the player, Alfredsson, "I was just finishing my check." Funny, but isn't that what Tucker said about this play?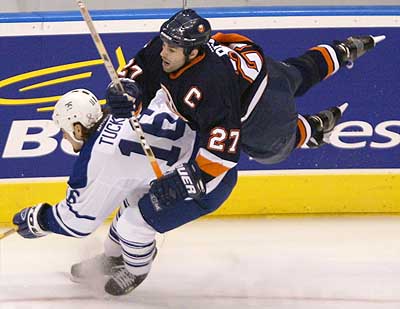 Fellow Leaf (and former Islander) Travis Green: "If that's Alfredsson getting hit by Darcy Tucker they're screaming bloody murder and there's a suspension to be handed out." Oh, really? Funny, but I'd say that Peca's on a level with Alfredsson and no suspension was handed down there.
And remember how Toronto fans were criticizing Isles fans for throwing bottles and things onto the ice after the game? Whose fans were throwing things onto their ice during last night's game, causing a five minute delay? Glass houses, people. Or ice houses, I suppose. Both break if you throw a stone.
---
Back